I will be sizing out and listing some nice Turetilla slabs for the future. These make exceptional jewelry. This is an example of what can be done with these slabs. Sadly my own pair where stolen at a Children's festival in Sequim.

The two pieces of Florida coral are questionably polish able, but could be treated to make jewelry. I consider them as an attractive collector item. Price is 8.95 and 4.05 shipping.
The fossil slab weighs about 4.oz Price is 3.90 and shipping is 4.10.
This agatized Indonesian Coral would make some great jewelry. The next picture I have and are rough cut slabs of Fossilized Florida Coral.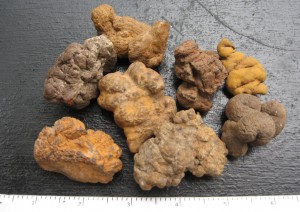 Faux coprolite from Chehalis WA is Siderite, a mix of pyrites becoming sulfide crystals to gertite to siderite. Pseudo-poo! All that that is dumped or found isn't always fecal. What I have to sell are Siderites, often sold as coprolite – the gee whiz poo fossil. Most rock shops eagerly sell you this; after all, what collector wouldn't want a piece of dung? Sadly fake coprolites are (mostly poor siderites. an iron-rich carbonate/pyrite).
So, how do you know if a poo-shaped rock is a genuine fossil or just pseudo-poo? The discovery of digested bits seems to be the best guide. These alleged 'coprolites' were found in Chehalis WA. BUT Washington coprolites are not from dinosaurs – or their poop. None have ever been found in Washington state yet! These are mineral materials that looks like poop, but is NOT coprolite.  $4.95 for 3/4 a lb. Small flat box shipping. 5.95
And being an old fossil myself I should leave you with a link on how to become one. Slow loading of course!