The Clallam County Rock Association sponsors a yearly rock show every September in Port Angeles. For many years, I have  attended this event and sometimes help out. Sadly this year's turnout and vendor displays were lower than I had expected. The show provided demonstrations of many of our different classes, faceting, cabochon making, silversmithing and wire wrapping and there were attempts to encourage young people to become involved in rock hounding as a hobby both by the club and by different vendors.
The low turnout may go with the economy. Even eBay is getting fewer hits on rocks and minerals. That said, I focused my own purchasing sites on minerals this year instead of finished slabs or shiny rocks. Some were quite drab in fact.
The first remains unknown but the second is a nice example of orbicular Hematite.
I did however get a few bargains:The first being a nice agate backed clock and the second was a piece of Aragonite, that I often misspell.

Accolades must be given to the efforts of the local rock club to encourage young children as did another long term vendor who gave out free rocks from petrified wood to polished agates. Had I the loot and the ability to stay till the end I might have made an offer on that delectable 'freebie' box.'
All I all it was another show I survived. I say that because in the buying I lost my wallet and was about to have an aneurism at any moment thinking of the money, cards and driver's license issues. As it turned out it was a senior moment. I had put the wallet into a mineral bag, amongst many others in my larger tote bag.
One thing of note however. Every year one finds a new vendor that has something out of the ordinary. I found such a local rock hound enthusiast today and hope he contacts me again through comments on sweetgeodes.com.
A footnote about the show and the work shop. Our club has some 6o plus members, yet few ever set foot into this facility or take advantage of the machines. Considering the effort made to support in financially it seems damn odd that it is so poorly used. I suspect the answer is that many of the members have their own workshops at home. That said, this SHOW failed terribly in one continuing aspect. There was little attempt made to entice new members.
The club had its own tables to sell very affordable materials, and with every purchase a membership slip could have been included into the sales bag. Same for the silent auctions of minerals table and the raffle table. I made a comment to this last year, noting that our member Foster Thomas at his display table made constant efforts to recruit new members with the print out membership forms. He was the only one to do so in a concerted manner and is no longer with us.
For ANY club to survive they need to inventory the talents of their members and utilize their skills, interests, abilities and then make use of them! Sadly, self-serving politics and preserving the status quo usually wins out and with it … the question "What happened?" when the club dies.
What I do need to leave off with is the immense amount of effort done by club members and vendors to make a show like this to happen. The volunteerism of such an enterprise simply is not understood. Moving rocks in and out of such a show is not that easy, much less the efforts of the rock collector who risks life and limb to collect such minerals and then sells them for $4.00.
Minor confession. I did pick up some Jasper and Petrified  wood which I am always a sucker for.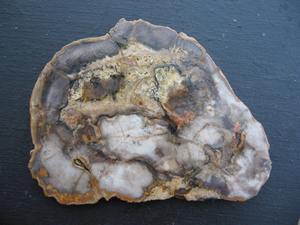 The first is a hand sized polished slab weighing about .5 lbs. $5.95
  The second was a huge chunk of polished wood weighing in at 5.5 lbs. Love the picture with the camera strap! 🙁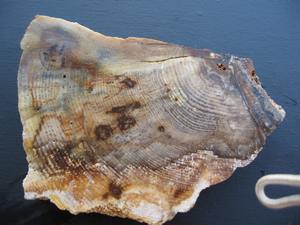 (C) Herb Senft 2014