I continue to edit this old site.
With new postal price increases I have decided to curtail further mail-order business. Simply to much time to update all the items and too little feedback.   Far easier to sell locally and at local shows.
Rocks (and plant materials) can be picked up at my place given notice. Hope to see you soon. The Google Map.

Herb Senft (still a Sequimian and former Skyline Nursery) wishes you a rocking 2016.  Purchases made through PayPal will be refunded!
Shipping has become ever more problematical and using most "free shopping carts" leaves one with having to put in a default  shipping charge which in this case is 5.95. This means you will be limited to a Priority mail shipment that cannot be over 1 pound – meaning that the rocks purchased will be limited to 12 some oz. as the package and padding will take the rest. Worse yet, on eBay I allowed them to select the best shipping. On the half pound items they used and invoiced the customers for 4.10 using the 1st class shipping option. Trouble being that it must be UNDER 13 oz. With packaging and protection for slabs especially I passed that mark and needed to go to USPS Parcel Service which became $7- 8 dollars. The small flat rate box does hold THREE slabs, but no more.
If you are buying slabs, the better way would be to use the small flat rate box. Weight is no problem here but the height dimension is limited to 1.5″ of vertical room. With bubble wrap and packaging this limits one to 3 slabs and that is pushing it. Two might be the better way to go. Polished or rough rocks less than 1.5 inches around can be shipped that way, but not most rocks.The picture shown is of Crocoite a rare mineral crystal of Tasmania, Australia.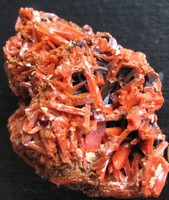 This guy would be 39.95 to buy.
For that reason I suggest the medium and larger flat rate boxes which can hold 10 or 15 pounds and up. Those costs will be 12.95 and 17.95 and I can combine multiple orders to fill those boxes. So just order at the 5.95 shipping costs and I will revise the shipping to reflect a combined order.
This includes a 5.95 shipping charge.