Please read the shipping alternatives at the bottom! Please note that the cart links refer to the picture ABOVE the cart! This site will have both finished and rough Jasper slabs.

This is one of THREE listings for nice sized slabs of this  beautiful  red Jasper!  With polishing these make great cabs. The first two groups are about 5 cm. thick The single slab is thicker, nearly 8cm. All are in the 1/2 to 3/4 lb. to make shipping affordable. Should you buy more than one group I can combine them, but the savings are not that great. Small flat rate box at $5.95.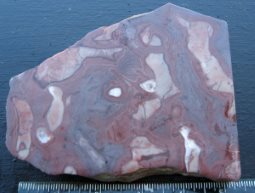 AGATE JASPER RHYOLITE MIX.

One should never play favorites but this was one of my favorite discoveries. It is well polished on three sides as a standing display. It weighs over a pound so would need to be shipped for 5.95 small flat rate box. Dimensions are 4 wide x 5.5 high and .75″ thick. The price will reflect my affection for this stone. $29.9
5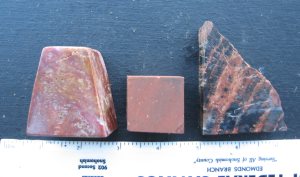 .
The Three Jaspers! This is a mix of unfinished Jasper slabs. I simply need a flat top do the job on these. They weigh 13 oz. and can be shipped in a small flat rate box. for 5.95  The price is 7.95. The jasper piece two the righ will be be exceptional and can be cut to make two slabs.
These two pictures show a great Picture Jasper that weighs 13 oz. and can be shipped in a small flat rate box. Price is 5.95.
I need to photograph this unknown light green orbicular jasper that I believe came from Oregon. I did however like the following description of the metaphysical properties of jasper.
Jasper- Orbicular
Jasper – is an opaque, massive, fine-grained, microcrystalline variety of chalcedony quartz with significant quantities of admixed material, frequently iron-oxides.  Red is the most notable color in jasper's, but browns, blacks, greens and blues can be found, and color mixtures often create scenes.  Generally, jasper's promote healing, tissue regeneration, and stimulation of the immune system.  The placement and effect varies by color.  Yellow jasper stimulates the solar plexus area.  Red is used for bronchial problems and the lower chakras.  Brown jasper grounds, and green jasper has overall healing use when worn, held in the hands, and placed environmentally.  Jasper is thought to be particularly applicable to women, fertility and childbirth. (Chakra Varies with color)
Jasper is the zodiacal stone for Leo, Virgo and Scorpio. It is a planetary stone for Mars and is associated with the element of fire. Since the actual colors of jasper can vary from stone to stone, its metaphysical abilities may also vary depending on the color of the specimen. Generally, jasper is considered to be the 'supreme nurturer' stone. It helps its wearer through tough times and brings tranquility and feelings of well-being to those who wear it for its power. It is also a stone of protection and is able to absorb negative energy.
If you have multiple items you are bidding on please do not pay for anything until you are finished, then let me know your ready and I can send you a single invoice with a combined and credited shipping fee!  Should your purchases need larger box I will always work to get you the best PRIORITY shipping fee!
All rocks can be combined into flat rate boxes and so can multiple slabs. They cannot however be combined! (Rocks with Slabs) As the rock is heavy This individual sale will need to go into a small sized flat rate box. Combining it with other sales would be the better plan.