Please read the shipping alternatives at the bottom! Take note that the cart links refer to the picture ABOVE the cart.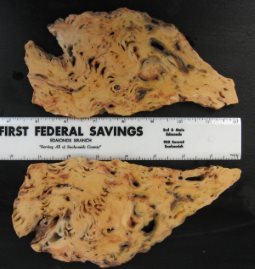 As soon as I photograph, weigh and price some of these slabs, I will be adding much more to this page. It also helps not to drop slabs.This Travertine remains one of my favorites. These are large slabs and are 4.95 ea. Two can be shipped for 5.95 or they can be added to other slabs that you have purchased. YUP – I dropped one of these, but can add new slabs of similar size.
A large slab of local Red Jasper, (Olympics Mts. WA.  4.95 ea. with 4.00 shipping.

SOLD

but I have a new group of similar size but with some interesting agate streaks.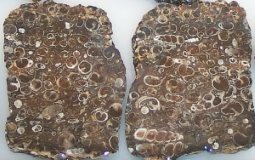 This is an example of some Turitella Agates I have slabbed. Popular enough to have been stolen at a children's fair. Until I cut some bigger slabs I will leave this unfilled.Measurements are …  Shipping 5.95 for items less than 1 lb.
If you have multiple items you are bidding on please do not pay for anything until you are finished, then let me know your ready and I can send you a single invoice with a combined and credited shipping fee!  Should your purchases need larger box I will always work to get you the best PRIORITY shipping fee!
All rocks can be combined into flat rate boxes and so can multiple slabs. They cannot however be combined! (Rocks with Slabs) As the rock is heavy This individual sale will need to go into a small sized flat rate box. Combining it with other sales would be the better plan