I mention this in regards to some bland looking specimens I have from Nevada. They would not be useful for cabs but I think this silicified wood made for great arrowheads and spearheads. It was not only Chert, Flint and Obsidian that were so used by Native Americans.
Two petrified wood book ends, each finished on three sides.  Western USA origin. Nine inches long and about three inches high.

Their price would be 32.95.  
Another use would be to drill into the top and use them as a stand for something else, even another rock. A interesting piece of driftwood perhaps. A stiff copper wire could support another rock above.

Minor confession at our last rock show. I did pick up some Jasper and Petrified  wood which I am always a sucker for, The first is a hand sized polished slab weighing about .5 lbs. $5.95
 .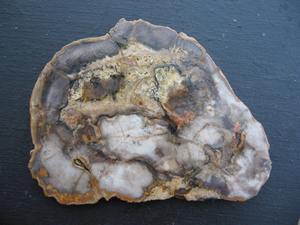 The second was a huge chunk of polished wood weighing in at 5.5 lbs. Love the picture with the camera strap! This guy is nicely polished and would go for $22.95. Medium flat rate box shipping needed.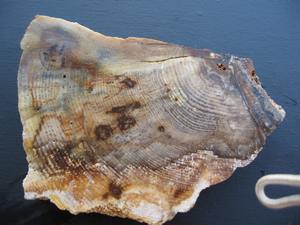 Petrified Wood-Literally means "wood turned into stone") is the name given to a special type of fossilized remains of terrestrial vegetation. Limb Casts are another such creation. All the organic materials have been replaced with minerals mostly silicates, such as quartz or agate, while retaining the original structure of the stem tissue.
Healing- "Petrified Wood is an extremely grounding and protecting stone. It is said to calm the nerves and fears and to encourage feelings of well-being, safety and security. It is a good stone for meditation and for help.
 If you have multiple items you are bidding on please do not pay for anything until you are finished, then let me know your ready and I can send you a single invoice with a combined shipping fee!  Should your purchases need larger box I will always work to get you the best PRIORITY shipping fee!
All rocks can be combined into flat rate boxes and so can multiple slabs. They cannot however be combined! (Rocks with Slabs) As the rock is heavy This individual sale will need to go into a small sized flat rate box. Combining it with other sales would be the better plan