This is just a beginning page of some rough petrified wood I have for sale. Other pictures will be added soon.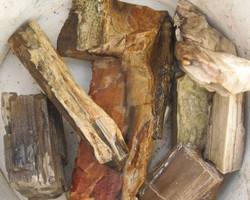 Petrified Wood
I have a large collection of Oregon or Washington collected material. As the picture shows they range from 15 pounds to about 1 lb. Some smaller pieces for the rock id tray are also available. I am presently cutting one large slab
Price will be 4.00 a lb. Let me know what you are interested in. All rocks can be combined! The cart price is for slightly less than 1 lb. and a small flat rate box rate..
A full ten pounds will be 39.95 and 12.95 for shipping
20 pounds of rock will be 69.95 with a 15.95 shipping charge.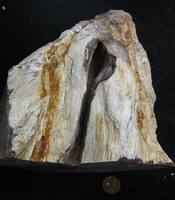 The five lb. specimen is wonderfully formed and bottom slabbed and would make a great Suiseki. Cliff cleft and all. It measures 4x5x6 inches high. The price is $55.95 and it could be cut into 8 or 10 slabs. The color would be grey, brown and more. Some druzi in it as well.