For jewelry or as individual rocks, this is but a beginning attempt to alternative display possibilities. Sizes, prices and measurements will follow.
I happen to have a huge collection of select woods that could be used to display rocks as shown in the first picture. Walnut, burl slaps, redwood, pear, quilted maple (tortoiseshell), spalted alder, cherry and teak to name a few. I will have to make a separate page to display them. I do like the rock slab usage to the lower right.
A beautiful piece of a burled cleaned driftwood that was sorely abused. Found locally on a Olympic peninsula WA. beach.
The three spikes held three ugly plastic chrysanthemum flowers, which I plucked off. This photograph is dry, but if the piece were oiled it would shine. I see it as being a beautiful mount for a special rock or whatever. Just don't put on plastic flowers!
Weight is about 1.75 lbs.  Price is $10.95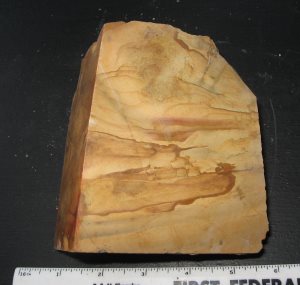 This is a large block of Jasper ready to be slabbed.it is 3.5 lbs.

$10.95

and would need to go into a medium flat rate box. 12.95. I have to add that shipping charge, but I would credit the shipping charges it if you combined rocks.

Six such rocks could be shipped.!
I have this listed under Jaspers, but another pair of petrified wood stands would be equally good mounts for something you value. I went to great pains to ID the three slabbed sides, then noticed the the two natural sides might even be more attractive.   Another use would be to drill into the top (slabbed) part and use it as a stand for something else, even another rock. A interesting piece of driftwood perhaps. A stiff copper wire could support another rock above.